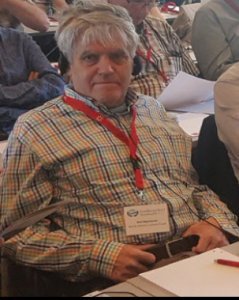 Reddvillaksen had the privilege and pleasure of hosting Orri and an international delegation at Hardangerfjord Seminaret early May, when Norsk Industri presented their road map for future salmon farming. Orri's health was at that point already weakened, but he took part in all presentations and discussions. We could see that he became optimistic for a future where all farmed salmon will be produced in closed containments, without spreading sea lice, diseases and bad genes to the wild fish.
Orri Vigfússon, became the Atlantic salmon's greatest friend as this iconic species struggles to retain its position as the 'King of Fish'. His enormous efforts to rebuild the threatened wild salmon stocks in the North Atlantic, brought him global recognition and well-earned honours from a huge assembly of admirers. Royalty and commoners, presidents and governments, anglers and conservationists alike have all applauded and rewarded his work with a wide variety of awards and supportive declarations.
In 1989 Orri observed the great damage being done by nets and long lines to the relatively small numbers of salmon that remained. Orri successfully pursued his idea of buying up commercial salmon quotas from fishermen in the Faroe Islands. A quota buyout was subsequently agreed with fishermen in Greenland in 1993. Gradually more agreements have been made on both sides of the North Atlantic through the work of NASF and its coalition partner organisations. Many Norwegian West Coast rivers would probably have been closed if this important buyout had not been done. Over the years more than 15 million salmon lives have been saved. The origin of 50 – 60 % of the salmon feeding or migrating in Faro water belongs to Norwegian rivers.
Orri! You were a dynamic man of action and the world is a poorer place with your passing. Your contribution to the Atlantic Salmon was beyond all measure. We guarantee you that ASF, NASF and other GMO's will work hard to continue the work you started. But you left us a pair of big wading shoes to fill.
"Tusen takk" from the board of Reddvillaksen (NASF Norway)