How about a 40-pounder? This is your opportunity of a lifetime to fish one of the most famous rivers in Norway. The whole river and only 4 rods!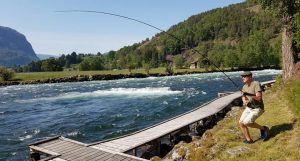 It's the International year of the Salmon and the river owner of the famous Aaroy river in Norway, Knut Munthe Olsen, has kindly donated two days of salmon fishing, lodging and food to raise awareness about the situation for the Atlantic Salmon.
These two days of fabulous fishing can be yours!
All you must do, is to donate a minimum of 1.000 NOK to Norske Lakseelver (Norwegian Salmon Rivers) and then you are part of the draw. The draw will take place at the 31/8 2019, so your contribution must be registered with us before that.
Everybody can participate in the draw. The winner will fish with a small group of other dedicated fishermen, so here's a great opportunity to meet new fishing friends as well. And, you and the group will actually have the whole river to yourselves. No more than 4 rods for the whole river.
About 1840 the first British anglers came to the Aaroy River to enjoy the exciting angling in a very special and spectacular river. Ever since the Aaroy River has held the reputation of being one of the best rivers for sport fishing in the world. Few other rivers than Aaroy can boast salmon over 30 kg. And the big ones are still here. Every year salmons of 15–25 kg is landed during the season.
Aaroy Lodge and the Aaroy River is located only 25 minutes away from Sogndal Airport.
Norwegian Salmon Rivers is an umbrella organization for local salmon river management organizations in Norway. The river Aaroy is one of currently 101 member rivers. The aim of Norwegian Salmon Rivers is to gain political awareness about the threats to the wild salmon and sea trout.
All about the River Aaroy can be found at their homepage.
http://www.aaroyriver.no/salmon-fishing
How to do it.
To participate: Payment by
Vipps to Norske Lakseelver at #535429
or transfer to bank account IBAN NO5481010537886  BIC/SWIFT DABANO22.
Those with an Norwegian account can pay to our account number 8101 05 37886.
Mark the tranfer «Aaroy Draw» and your name and email.
Cross your fingers and hope.
The 1th of September you'll know.
Tight lines!